Ericsson GH197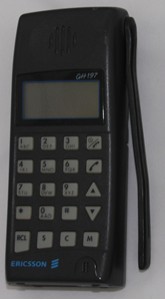 Rebranded EH97 for GSM
Date launched: 1993
Network: GSM
Form: Candy bar
Size: 62(w)x147(h)x30(d) mm
Weight: 334g
Standby time: 16hrs
Can you use it today: Yes
Cost new (1994) £350 to £500(1)
eBay value £40+
The Ericsson GH197 was the digital version of the EH97. It made its debut a year later in 1993.
A lot can happen in a year. Gone are the brown and orange colour scheme and the 'Hotline' brand: a company called Hotline Electronics challenged Ericsson's use of the name. Ericsson subsequently dropped the brand, colour scheme and the Harry Hotline character, who was the public face of Ericsson mobile phones since 1984.
The GH197 was the UK's most expensive GSM phone at the time. Alternatives in 1994 were the Nokia 1011 and the Motorola 5080. Although both the Motorola and Nokia phones were cheaper, reviewers at "What Cellphone" liked them better.
The Ericsson offered top quality audio performance, due to Bang and Olufsen components, but was lagging behind with some features. There was no memory for numbers for example, although they could be stored on the SIM card.
Derivatives
A later version of this phone is the GH198, which looks almost identical.
Collectors' tips
The GH197/GH197 share the same battery as the GH172 and EH97.
Resources
References
(1) What Cellphone, Summer 1994 average price.
Add your comments