Ericsson GA628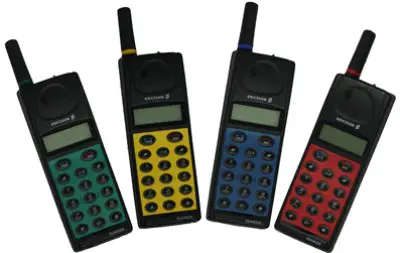 Any colour you want it to be
Date launched: 1997
Network: GSM 900Mhz
Form: Candy bar
Size: 49(w)x130(h)x28(d) mm
Weight: 170g
Talk time: 4.6 hours
Standby time: 83 hours
Cost new: £50 (1)
Can you use it today: Yes
The Ericsson GA628 was the first phone you could easily customise. Every new Ericsson GA628 came with four different front panels in green, yellow, blue or red.
As mobile usership changed from high flying businessmen to more ordinary people, early adopters were the young. Young people were less than excited by the rather boring palette of most mobile phones. Black or grey were by far the most common colours.
Accessory suppliers quickly anticipated this change and made complete replacement cases for current mobile phones which allowed you to change or transform your phone to a bright primary colour, transparent, or burr walnut. To fit one of these though, you had to be comfortable with the fiddly process of prising the phone apart and invalidating the guarantee.
Ericsson was a pioneer of the consumer look with the brown and orange Harry Hotline handsets which dated back to the 80s. However, they were still all the same colour. Nokia offered the analogue Nokia 101 in green, blue, red, white or plum, but once you had made your choice that was it. Mobiles were too expensive to join the Swatch trend of being cheap enough for someone to want to own several, even if they could swap the SIM cards. So along came the the Ericsson GA628.
If you didn't fancy the selection that came with the phone, other panels were available at £14.99.
As you might expect from Ericsson, one of the founding fathers of the telecoms industry, the phone was of high quality, although, to some reviewers there was some compromise on the voice quality compared to earlier Ericsson phones. It also felt a less solid product than the GA318, which it replaced.
Resources
References
(1) From the Link (on Cellnet October 1998)
Add your comments
Comments (12)
Hi, There I have 3 Ericsson phones for sale and they all unlock and in great working condition only need the battery and charger. for more info email me at
[email protected]
. thanks