Vintage Nokia phones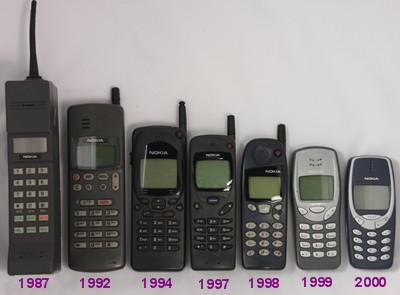 "The Japanese made the smallest, the Americans made the lightest, but the Finns made the best" so ran a US magazine advert for the Nokia 101 back in 1992. It is hard to disagree with the sentiment. Nokia made the best use of the technology of the time, wrapping each new mobile in a modernist shell in which form followed function. They made some of the most usable mobile phones of the 80s, 90s and 2000s.
The Finnish company Nokia was one of the first into the mobile phone business. Nokia's involvement in the industry goes back to the 60s when car phones were the only way to use mobile communications. Nokia's first non-car phone was the Mobira Talkman, for the NMT (Nordic Mobile Telephony) network in 1984. Their first phone you could hold in your hand was the Nokia/Mobira Cityman 1320 from 1987.
Nokia's design aesthetic and its commitment to digital phones in the 1990s helped it overtake Motorola as the world's leading cell phone supplier. Nokia was always ahead of the game, anticipating trends and making new markets.
Nokia's young designers were able to read and exploit the difficult young professional and teenage markets and produce phones that were cool as well as usable.
Nokia phones were top business accessories as well as fashionable consumer products. The Nokia 2110/2110i series was the definitive business phone for many years.
Nokia also entered the premium phone business with the Nokia 8110 which starred in the science fiction film, The Matrix, as well as pioneering the smart phone concept with the 9000i Communicator, winner of What Cellphone's most innovative phone of 1997.
However, in recent years Nokia was blindsided by Apple, when it introduced the iPhone.
Nokia resources
Company history
Nokia has a large amount of resources about their company history. Have a look at The story of Nokia.
Wikipedia
The list of Nokia products on Wikipedia is a great resource. You can find model numbers, networks and dates launched.
Auctions