Vintage Ericsson phones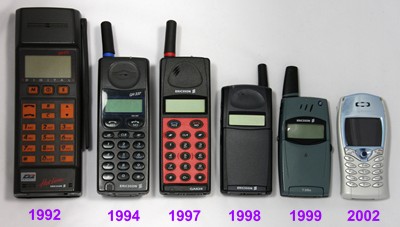 Ericsson is a name as old as the telecommunications industry. Ericsson made some landmark landline phones; an Ericsson design was the basis of the UK's black Bakelite phones of the 50s. However, Ericsson lagged behind both Motorola and Nokia in the mobile phone business.
Like Nokia, Ericsson entered the mobile phone business in the 1980s and like Nokia, Ericsson was also involved in mobile phone infrastructure as well as handsets.
Ericsson phones from the 90s
Ericsson's phones were unlike any others. Ericsson's Marketing Manager, Flemming Örneholm, a man trained in photography, and who held posts in finance, marketing and sales, wanted a unique consumer identity for Ericsson phones. He chose a garish brown and orange colour scheme reminiscent of the late 70s. He branded them under the 'Hotline' label and created a character called 'Harry Hotline' who starred in their adverts and marketing material
All Ericsson phones had internal project names. The first hand portable was Curt. After Curt they were all given ladies' names.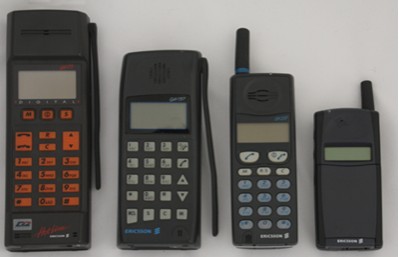 | Project name | Launch dates | UK phone models |
| --- | --- | --- |
| Olivia | 1987-1992 | GH172 |
| Sandra | 1991-93 | EH97, GH197 |
| Jane | 1994-97 | EH237, GH337, PH337, GA318, GA628, A1018 |
| Emma | 1996-97 | GF768, PF768 |
The Jane platform was the mainstay of Ericsson phones in the 90s. They used it initially for their high end phones. The analogue EH237 won the coveted 'What Cellphone' Caesar award in 1994 and the digital GH337, then the smallest, lightest GSM phone, took the award the following year. Later it filtered down to mid range consumer phones.
In Asian markets, Ericsson managed to carve out a quality image. People aspired to own an Ericsson phone in the same way they aspired to own a BMW or Mercedes. This was also true in Europe in the early 90s, with Ericsson's two flagship business phones, the EH237 and GH337, but it did not last. Motorola and particularly Nokia products were more often than not superior.
Ericsson was also a pioneer of the consumer market, when it made the first handsets with interchangeable panels, the GA628.
Sony Ericsson
However, the firm remained number 3 behind Motorola and Nokia. In 2001, Ericsson teamed up with Sony to manufacture mobile phones. Japanese firm, Sony, had failed to make an impression in the mobile market, in spite of producing some innovative miniature phones in the 90s.
Sony Ericsson made the UK's first phone with picture messaging, the T68i. However, the combined firm still failed to dent Nokia's lead and now makes a tiny fraction of the world's mobile phones.