Mobile phones by year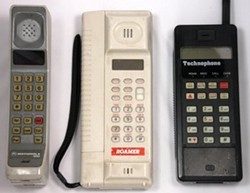 These are UK phones year by year. This is not an exhaustive list, but we have tried to capture a flavour of what people generally used. Apologies if we have missed your favourite model.
Analogue phones
1983
1985
Motorola DynaTAC 8000S
Technophone Excell M1/M2
Technophone PC105
British Telecom Opal (rebadged Motorola 8000S)
Read more about BT Cellnet phones.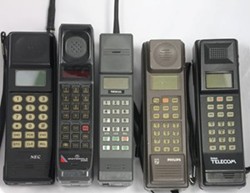 1986
Mitsubishi Roamer (also marketed as BT Pearl or Racal-Vodac VP15)
Technophone PC115
Technophone PC135
1987
1988
British Telecom Coral (made by Kokusai)
Philips PRC30E (made by Kokusai)
Technophone PC205
Cleartone CTN9000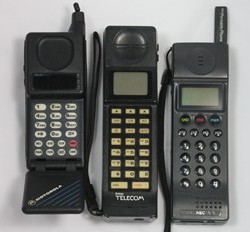 1989
British Telcom Ivory (made by Hitachi)
OKi CDL 700E (Distributed through Martin Dawes in the UK)
1989 Maxon EPC590E
1989 Bosche Handy 450
1989 Hitachi CR-2170UK
1989 Ericsson Hotline
1989 Mitsubishi MT-3
1990
Motorola DynaTAC 8800X
NEC P3
Nokia Cityman 100
Nokia Cityman 190
1991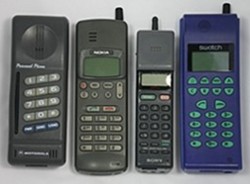 1992
Ericsson EH97
Mitsubishi MT7
Motorola DynaTAC 8900X
Motorola Independent
Motorola MicroTAC II
NEC P4
Nokia 121
Sony CMH-333
1993
BT Jade (rebadged NEC P100)
Ericsson EH237
NEC P100
Nokia 100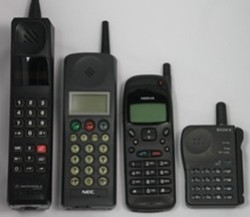 1994
Motorola DynaTAC 8900X-2
Motorola 888
Ericsson EH237
Sony CM-R111
1995
Motorola Flare L
NEC P800
1996
BT Jade II (rebadged NEC P800)
Motorola a130
1997
Nokia Ringo (available in the UK on Vodafone Pay as You Talk)
Digital phones 1991 to 2000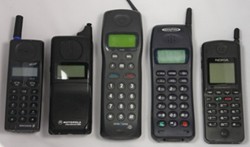 1991
1992
1993
1994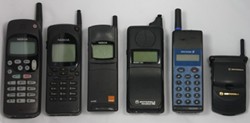 1995
1996
Nokia 9000 Communicator
Nortel m900
Orbitel 903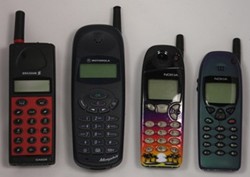 1997
1998
1999
2000