Ericsson GH172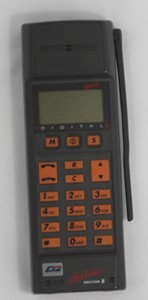 Harry Hotline goes digital
Date launched: 1992
Network: GSM 900Mhz
Form: Candy bar
Can you use it today: Yes
The Ericsson GH172 is what mobile phones might have looked like had the technology been invented in the 70s. The brown and orange look dates from Ericsson's first transportable back in the 1980s. They kept the colour scheme and the Hotline brand into the 1990s.
Ericsson's first GSM phone was a re-engineered version of the similar looking NH72. N refers to NMT, the old Nordic analogue network, G to GSM and H stands for hand portable.
The NH72 was developed from a larger brown and orange creation, Ericsson's first hand portable, the Hotline Pocket. Nils Rylands, Head of Research at the Ericsson Mobile Telephone Laboratory and his team took a police radio and turned it into a mobile phone. The codename for this project was Curt. Curt broke a long running Ericsson tradition, Up until then, all Ericsson mobile phone research projects had been given female names.
The female naming returned for the GH172/NH72, which was called Olivia.
At this point I should introduce another character, a modern day global explorer called Harry Hotline. Harry was the public face of Ericsson's 'Hotline' campaign. The mobile represented freedom to travel. You could go anywhere the world and stay in touch. At the time this may have been more of a dream than a reality.
Ericsson's next model was Sandra. In her first UK incarnation, Sandra was the EH97 Hotline on the ETACS network. However, before the GSM version came out, a little known company called Hotline Electronics successfully challenged Ericsson's use of the Hotline name. The GSM versions of Sandra, the GH197 and GH198, dropped the brown and orange colour scheme and became smart and businesslike in grey and blue. Harry Hotline also disappeared, perhaps he got lost on a foreign adventure to a country that did not have GSM.
Resources
Add your comments