Ericsson T68m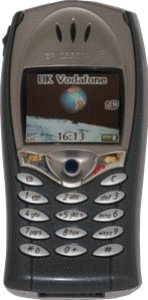 Awesome Ericsson finale
Date launched: 2001
Network: GSM 900Mhz/1800Mhz/1900Mhz
Form: Candy bar
Size: 48(w)x101(h)x19.5(d) mm
Weight: 84g
Talk time: 13 hours
Standby time: 290 hours
Features: Colour screen, tri-band, bluetooth, joystick control, WAP, GRPS, infra red port
Cost new: £199.99 with contract from Carphone Warehouse
Can you use it today: Yes
The T68m was the last phone branded 'Ericsson' as opposed to 'Sony Ericsson'. It was in fact, the first phone of the new venture and it got Sony-Ericsson off to a cracking start.
It was loaded with state of the art features, including bluetooth, tri-band GSM and a groundbreaking 256 colour display. It wasn't quite the first phone to boast a full colour display, Mitsubishi's Trium Eclipse was on the market fractionally sooner, but the Ericsson T68m was smaller, sexier and much nicer to use.
Commentator Michael Oryl writing for Mobile Burn said it broke Nokia's monopoly on style.[1] It was absolutely on trend and a huge break from Ericsson's conservative styling.
At the time of the T68's launch, the phone that did have a monopoly on style was the Nokia 8310, Nokia's flagship consumer phone. It boasted a built-in FM radio and an ultra stylish case with three way customisation.
Nokia style influenced the design of the T68m which had similar keys to the older Nokia 8210 and chrome look accept and reject keys, mirroring the chrome parts on the 8210. It weighed the same as the Nokia 8310 and was only slightly bigger, but it had a larger colour display, making the 8310, with its small monochrome screen instantly old hat.
For Christmas 2001 gadget lovers were hoping to find the Ericsson T68m in their stockings and there was more to look forward to in the New Year.
With a colour screen and reasonable resolution you could view colour pictures. A software upgrade the following year turned the T68m into the new model, the T68i which was able to take pictures with a camera attachment and send them to other users using the MMS technology.
Resources
A review in the Register on the Ericsson T68 from 2002 - Ericsson T68: helluva phone
Read reviews from around 2003 - www.mobile-phones-uk.org.uk/ericsson-t68i.htm
References
1. Sony Ericsson T68m - Best of Breed, review by Michael Oryl, January 14, 2002.
Add your comments
Comments
No comments yet. Be the first!