Motorola MicroTAC 9800X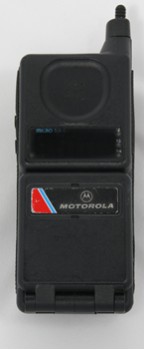 The first phone that was not a brick
Date launched: 1989
Network: Various analogue
Form: Flip phone
Cost new: £1765
Can you use it today: No
In 1989 mobile phone service providers were slashing the prices of handsets to attract new customers. Motorola set out to capture the top end of the market. The Motorola MicroTAC 9800X was the smallest and lightest handset on the market. Whilst other phones were bricks, the MciroTAC promised the shape of things to come.
In spite of a price tag of $3000, or £1765, the MicroTAC was well received. The MicroTAC set Motorola's strategy to produce attention seeking flagship phones that often succeeded to be the coolest mobiles on the planet.
The MicroTAC redefined the look of the mobile phone and introduced a new form, the 'Flip Phone'. The flip became the basic shape of Motorola's premium and mid range phones until the StarTAC came along in 1996.
Although, the 9800X was a breakthrough, it cemented Motorola's commitment to analogue phones, which in 1989, were still new. However, the future of mobile communications lay in GSM and Motorola was slower to adjust to the new game than some of its competitors, perhaps because of Motorola's roots in the USA where analogue looked like it would last.
Resources
Wikipedia page - Motrola 9800X
References
Motorola looks to sew up premium cellular market with 9800X mini-phone (Published in Computer Business Review 2 May 1989)
Add your comments
"How much is one of these worth if you are selling one." john davison 04/03/2013
"I would say around £50. Although it's difficult to say as they don't come up often." Steven 04/04/2013
"Loved, loved, loved this phone and I think the one or version right before it. (Probably the lighter colored gray one.) This version was honestly my favorite phone of all time because of the weight and how it fit in my hand. I had gone all mobile back in 1991 realizing the a landline would not be useful for me. It seemed that from from somewhere during the mid to late 1980's through the mid 1990's before the phones switched from analog to digital and a very large number of individuals suddenly started getting cellular phones, that service was amazing as few were accessing either the towers or the networks. If anyone has experience transitioning back to the mid-1990 Motorola's and how they function in 2014, I would love to hear about it as I considering going old school with my phone back to a flip phone. Please contact me at my first name on the post at my personal site for www.davidscottcurtis.com (Just trying to keep the bots that might scrap this to a minimum to keep any spam down so eliminate the dub dub dub and the period before my name.) Also, if anyone out there could be taking MicroTacs or the generation right before this era and putting in brand new electronics, batteries and maybe a USB charge for convenience today, I would love to hear about that as well." David Scott Curtis 07/12/2014
"possiedo un cellulare bosch cartel sl E/1 in perfette condizioni. E' una serie limitata e personalizzata del microtac 9800x motorola.
Me lo fornirono nel lontano 1989 dietro ad un acquisto di 20 milioni di materiale bosch di ricambi auto.

(translation)I own a cell phone bosch cartel sl E / 1 in perfect condition . It ' a limited series and custom MicroTac 9800x motorola .
They provided me back in 1989 behind a purchase of 20 million material bosch auto parts ." graziano 01/25/2015
"I have one for sale" peter 06/14/2015
"Please give details so someone can contact you. Best regards" Steven 06/15/2015
"I also have one of these for sale, cant find the charger though so not sure if it will power on.

Please let me know if anyone is intereted" Paul Spooner 11/09/2015
"Paul, im ectremely intrrsted in your microtac 9800 i have great apreation for vintage things let alone something that represents the dtart of an area. Please email me back if it is still available and i will make payment promptly.
-Ariah Langston" Wolfy of London 05/09/2016
"Paul, im ectremely intrrsted in your microtac 9800 i have great apreation for vintage things let alone something that represents the dtart of an area. Please email me back if it is still available and i will make payment promptly.
-Ariah Langston" Wolfy of London 05/09/2016
"Hi I have a Motorola 1989 MicroTAC which is in good condition (the aerial is missing). It powers up with a charger still although I do not have a charger; looking to sell. If interested please email me with an offer- I can send pictures if necessary." Natasha Spackman 04/19/2017
"I have a microtac select 3000 opened but in box...I want to sell." WandaJ 07/04/2018
"Was this the first flip phone?" None 03/20/2019
"Hi there. This website is fantastic! I absolutely love it and it's very useful for my final paper in college. Thank you, Steven, for well-written and well-documented knowledge!" Nicolas Holdt 11/22/2020