Motorola d160/MR201/Memphis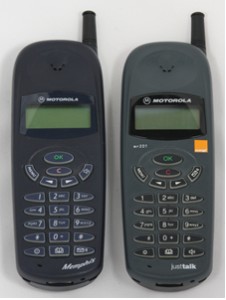 Pioneer of PAYG
Date launched: 1997
Network: GSM 900Mhz/1800Mhz/1900Mhz
Form: Candy bar
Size: 58(w)x159(h)x30(d) mm
Weight: 235g
Talk time: d160 4hrs; MR201 4hrs; Memphis 5hrs
Standby time: d160 80hrs; MR201 75hrs; Memphis 70hrs
Cost new: Memphis £10 (with contract), MR201 £179.99 (PAYG)
Can you use it today: Yes
Motorola was known for its high status phones such as the £1400 StarTAC. However, the company also made bread and butter phones for those with more modest means. The Motorola d160 was poles apart from the StarTAC; it was big, heavy and cheap. This phone and its analogue cousin, the a130, were some of the first PAYG phones.
The d160 was a digital version of Motorola's entry level analogue phone, the a160. It had one unique feature: if you needed to use the phone in an emergency and the battery was flat, it would take AA batteries instead. I am not sure how long they lasted, however...
The d160 had a rounded look, which some commentators found difficult to use. However, it was a reasonably well made phone, if lacking in features.  It had no memory for numbers, you had to rely on the SIM card, and the menus were a bit fiddly. However, it did support text messaging if your network did.
For One2One, Motorola rebranded the d160, as the Memphis. It was a deep blue colour and had a different keypad layout. The Memphis was One2One's entry level phone.
The d160 also had the distinction being the first Orange PAYG phone. Orange launched PAYG, with the justTalk brand, towards the end of 1997 and offered only this phone. The phone cost £179.99.
Motorola a130
The Motorola a130 is the analogue version of the d160. It was available a year earlier and was one of three phones Vodafone offered when they re-launched Vodafone Pre-Paid as the more friendly 'Pay as you Talk' to compete with One2One's Up2You and Orange's justTalk.
Resources
Add your comments