Nokia 2110 & 2110i

The first phone with the Nokia tune, and the definitive 90s business phone
Date launched: 2110 1994, 2110i 1995
Network: GSM 900Mhz originally Vodafone EuroDigital
Form: Candy bar
Size: 56(w)x148(h)x25(d) mm
Weight: 236g
Standby time: 14hrs
Cost new: £700 (Spring 1994)
Can you use it today: Yes
eBay value:£15 to £80
What was the coolest business phone of 1994? Answer the Nokia 2110. It was the smallest GSM phone on the market. The Nokia 2110 was pitched at the high flying executive travelling to Europe and making the most of the GSM network. It was also the first mobile phone with the Nokia tune.
At this stage Nokia had not adopted this ringtone as their signature tune, it was just one of five tones the user could choose from.
The Nokia 2110 was Nokia's second generation of GSM phone and the first one designed purely for the digital network rather than a reworking of an existing analogue phone. The 2110 and 2110i were Nokia's flagship business phones from 1994 to 1997. The simple, understated design made this phone an instant classic and the definitive business phone of the mid 90s. It won What Cellphone's Business Phone Award for two years. Nokia's adverts were bullish enough to call it 'Simply the best digital phone in the UK', quite a claim!
To get one of these in 1994 you had to sign up for Vodafone's EuroDigital package, the one for high use business customers. A variant of this design, the 2140 became the first Orange phone.
Although the Nokia 2110 never achieved the kudos of, for example, the Motorola 9800X or StarTAC, Nick Goodway of the Daily Mail called this phone the "probably the most significant mobile phone ever made". Even today this phone is a joy to use. It has that distinctive feel of understated quality, so easy to recognise, yet so difficult to engineer.
A retrospective press release from Nokia recognised this phone as Nokia's first iconic product. During its lifetime the Nokia 2110/2110i sold twenty million units, not bad for a business phone.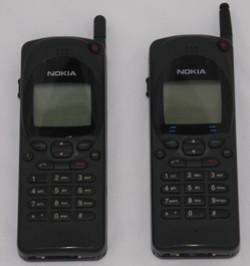 How to tell a Nokia 2110 from a 2110i
The Nokia 2110 is quite rare, whereas the Nokia 2110i is much more common. If you are looking for the phone that was the first to have the Nokia tune, not a later revision, you need to look very closely.
The picture on the right shows the Nokia 2110 (left) and the 2110i (right). There are two visible differences. The most obvious is the smaller rounded aerial on the 2110. There are also four blue dashes under the screen of the 2110i. These are not present on the 2110.
Another clue is the firmware number. The 2110's firmware number is NHE-1XN and the 2110i's is NHE-4NX. To check the firmware number, remove the battery and it is printed on the back of the phone.
There is currently little difference in value between the two phones, but this is likely to change in the future.
Resources
References
(1) Nokia press release
Add your comments
"Hello.I want to buy gsm 900 mhz unlocked nokia 2110/2110i .How much ? please pictures and sim card is normal use sim ?please reply your massage" theintun 08/24/2014
"This model is brandnew is ok .I want to use old model phone.I will buy ebay to motorolla startac 130 brandnew have ebay 2013 .july" theintun 08/24/2014
"Hi, I've got an original 2110 with firmware no. printed inside NHE-1XN and it has the smaller rounded aerial. However it also has the four blue dashes on the screen! Has it had a replacement screen/case or was there a variant like this?" Justin 10/13/2014
"The firmware number definitely separates the 2110 from the 2110i. I've only seen the dashes on the 2110i and assumed they were a feature of that phone. Perhaps yours had a replacement screen as you say, or was an interim model. You so see 2110s with the later aerial, but in that case it is usually a replacement." Steven 10/13/2014
"hi do you have a new battery for the nokia 2110i .please send price if you have. i need one urgently
regards and thanks
alanz" alan zeff 05/27/2015
"Hi I have a brick type Motorola (Manhattan)
Was wondering if it is worth anything?" Davidclyddiatt@hotmail.co.uk 10/13/2016
"hello sir,
i want nokia 2110 mobile phone." Hari singh rajak 11/24/2016
"i have a nokia 2110 genuine how much it worth?i wont to sell it" mihai ionescu 03/05/2017
"I want to buy a battery for my Nokia 2110i. Please can some help me." Subramani Rajagopal Subramani 04/29/2017
"I bought two spare batteries for these phones on eBay. They were brand new and sealed in packs. Neither were any good. I don't think they have a great shelf life. You might be better buying a phone with a working battery, but don't expect great battery life." Steven 05/09/2017
"I have working batteries l build myself by opening the cell case and changing the flat cells and soldering the connection's with the right power cell and they work for days and much better than the cheap old cell that lasted one day charge as these batteries last up to a bloody week so email me at Mattrogers7777@gmail.com ☺" Matt7777 01/25/2019
"Hi I have Nokia the SIM card not support What can I do" reza heidari 03/09/2020
"I have a 2110i and would like it unlocked. I have all original box and numbers." Graham Taylor 06/16/2020