Nokia 3310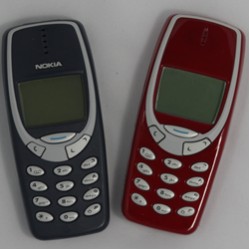 From desirability to ubiquity
Date launched: 2000
Network: GSM 900Mhz/1800Mhz
Form: Candy bar with internal aerial
Size: 48(w)x113(h)x22(d) mm
Weight: 133g
Cost new: £29.99 with Vodafone contract (1) or £129.99 on PAYG (2)
Can you use it today: Yes
The Nokia 3310 is one of the best selling phones of all time. Between 2000 and 2005 Nokia sold 126 million of this phone and the very similar 3330 (3).
Like the 3210 which it effectively replaced, the 3310 was a consumer phone with an bias towards the younger end of the market aged 12 to 25: teenagers and young professionals. Texting was already enormously popular, but the 3310 introduced a new chat function allowing people to chat on-line using texts.
 You could customise Nokia's new baby with new Xpress-on covers, your own screen saver and voice activated dialling. The mobile phone was becoming a part of you. Just how much a mobile phone could mean to an individual was revealed by the sad story of a Romanian man who hung himself after losing his Nokia 3310.
The Nokia 3310 gradually lost status but gained popularity.  When Tesco launched its own mobile phone service, a joint venture with O2 in 2003, the 3310 was the cheapest handset, retailing at £44.99. By the end of 2003, the Nokia 3310, already considered old hat, was amongst the phones being collected to be refurbished and redistributed to the Third World.
There are still Nokia 3310s in use today. As a reliable and basic phone that can make calls and send and receive texts, you cannot beat it.
Resources
References
(1) From Dial-a-phone advert in the Guardian (October 2000)
(2) From The Link advert in the Guardian (August 2001) on Cellnet, One2One and Orange.
(3) Nokia press release
Add your comments
Comments (13)
Hi all! Nokia 3310 was one of the best phones, I have ever liked. I bought the phone 4 times. I am very much shocked and surprized that why the phone was discontinues. that is a wrong thing with the customers. Today I am dersigning a phone and want to give this to the world for a better tomorrow and to make things easy for you. thanks