Nokia 5110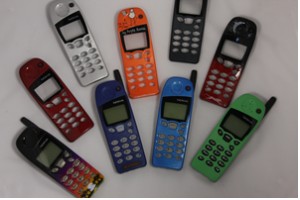 Winner of the Guardian' 'Off the Cuff' (Fashion) Accessory of the Year Award 1998
Date launched: 1998
Network: GSM 900Mhz
Form: Candy bar
Size: 48(w)x132(h)x31(d) mm
Weight: 170g
Cost new: £29.99 (1)
Can you use it today: Yes
Is a mobile phone all about communication or about fashion? Nokia decided it was about fashion when the company sponsored London Fashion Week in 1999 and offered two Nokia 5110s as prizes in a competition.
The Nokia 5110 was not Nokia's first attempt at a consumer phone, but for the first time they decided that a consumer phone was more than a business phone with a few features missing. The Nokia 5110 gave customers a chance to choose a phone that was not just black or grey. The Nokia 5110, thanks to Nokia's new Xpress-on covers, could be any colour you like.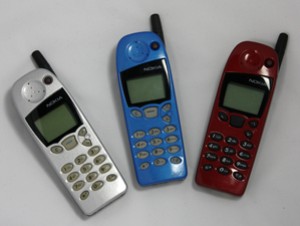 The original Nokia adverts used the tagline 'Freedom of expression'.
The Guardian fashion editor loved it and it won the 'Off the Cuff' (Fashion) Accessory of the Year Award 1998.
Nokia had jumped on a trend that started in the mobile phone accessories market. People were buying new covers for old phones. If you had the skill and patience to prize apart your old mobile, you could change the case from the standard grey or black to red, yellow, green, transparent or polished walnut.
The Nokia 5110 made it much easier to swap covers, as the phone was designed for it. Nokia were not quite the first to do this. The Ericsson GA628, launched the previous year, had a fascia panel around the keypad that was customisable, but Nokia was the first to do it with the whole of the front of the phone.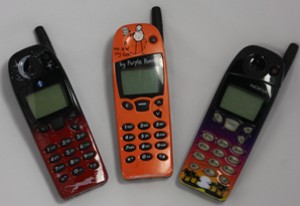 There was a huge range of official Nokia fascias and plenty of aftermarket ones with varying degrees of quality. The original Nokia covers were metallic. The seven colour range included: 'Antiqua Red, 'Bermuda Blue', 'Island Yellow', 'Geeko Green', 'Shark Silver' and 'Tango Orange'. The picture on the right shows two phones with aftermarket fascias, the orange one in the centre has a cartoon by Purple Ronnie. The phone on the far right has an official Nokia fascia.
The Nokia 5110 started the craze for phones with changeable cases from the late 90s and early 2000s. The Nokia 5110 became a fashion favourite. However, it was a mid range rather than a premium phone and quickly lost its edge.
By 2000 The Link offered the Nokia 5110 free with free line rental for a year and Comet offered the same phone for £79.99 on 'Pay as You Go'.
How far can you throw it?
There are some strange world records. In September 2002, Petri Valta from Finland recorded a distance of 66.72 metres for throwing a Nokia 5110. At the time it was the world record for throwing a mobile phone.
Resources
References
(1) From the Link (on Cellnet October 1998)
Add your comments