Nokia 6110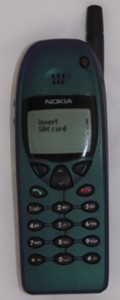 Stylish and lightweight business phone
Date launched: 1998
Network: GSM 900Mhz
Form: Candy bar
Size: 47(w)x130(h)x28(d) mm
Weight: 143g
Talk time: 5 hours
Standby time: 270 hours
Features: Infra red port, games, 3 chameleon covers, calendar function
Cost new: £99.99 (1)
Can you use it today: Yes
The Nokia 6110 and 5110 are a perfect exercise in the design of two similar products for completely different markets. The 5110 began a new line of consumer phones all about fashion and style. The Nokia 6110 started a range of classic business phones, which culminated in the Nokia 6320i, a phone with a loyal band of adherents nearly 10 years after it first entered production.
The Nokia 6110 was smaller and lighter than anything Nokia had produced to date. Instead of sober blacks and greys the new phone came in a number of different colours which could change shade under different light. (Hover over the image on this page to tilt the phone and see the shade change).
Natalie Tsang was a typical 1998 user. Aged 23, she was a marketing consultant with a liking for new technology. Natalie swapped her Filofax for a Palm Pilot and relaxed with a Playstation.
The Nokia 6110 had its own diary feature as well as an infra red port to connect to a computer. It was also the first phone to feature Nokia's famous Snake game. So business, with a bit of fun. Perfectly pitched for the late 90s market.
Resources
References
(1) From the Link (on Cellnet March 1998)
Add your comments