Nokia 7650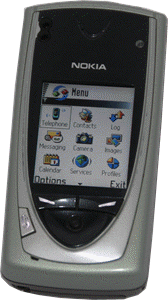 First European phone with a built in camera
Date launched: 2002
Network: GSM 900Mhz/1800Mhz
Form: Candy bar/slide
Size: 56(w)x114(h)x26(d) mm
Weight: 154g
Standby time: 90 to 230 hours
Talk time: 2 to 4 hours
Features: Built in camera; Symbian OS v6.1; colour display; joy stick control; GRPS; MMS; Infra red and Bluetooth connectivity.
Cost new: £200 with a Vodafone contract from Carphone Warehouse(1)
Can you use it today: Yes
The Nokia 7650 was the first mobile with the Symbian OS and Europe's first phone with a built-in camera.
It was just what the industry needed. Basic phones were as cheap as they were going to get and with nearly everyone who wanted one having one. Manufacturers and network providers needed a reason for people to go out and buy another mobile phone. Many hoped the Nokia 7650 would be the reason.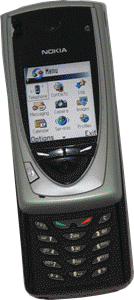 The Nokia 7650 must have looked strange to phone users at the time. It was a slide phone, but the keypad slid out from behind the phone. If you were not dialling a number, most of the controls could be accessed via the joystick. The menus were fairly intuitive to use and the colour screen would have been entirely new to Nokia users.
Sliding the slider to expose the keypad also opened the camera lens. The 7650 had a built-in 640x480 pixel camera. This was hopeless for serious photography, but perfect for sending a snap to a friend with the Multimedia Messaging Service (MMS) provided in Europe.
The 7650 was also a smart phone. The Symbian OS v6.1 powered the interface which offered messaging, WAP internet access, image management, calendar, to-do lists and a colour version of the famous Nokia Snake game.
The Nokia 7650 was announced towards the end of 2001, but took it took a long time for a European provider to even offer an MMS service. The Nokia 7650 became a highly desirable accessory for a time. Commentators worried about the high price, but they need not of worried, it was an instant success.
References
(1) The Sunday Times, 4 August 2002, 'Can Nokia Save us?'.
Add your comments
Comments (7)
Catherine, If you were currently in 2002, this phone would be cutting edge, and you would be very happy with the phone, and you wouldn't know about future phones. Also, from the vantage point of 2014 I recommend that you ditch your iPhone 4s or android hero. The new galaxy S5, and IPhone 6 are coming out soon, you don't know what you're missing!