Nokia 8110

The original Matrix phone
Date launched: 1996
Network: GSM 900Mhz /PCN 1800Mhz on One2One (Nokia 8146) or on Orange as nk502
Form: Candy bar
Size: 48(w)x141(h)x25(d) mm
Weight: 152g
Cost new: £200
Can you use it today: Yes
The Nokia 8110 re-defined what a mobile phone should look like. It was smaller and lighter than other Nokia phones, but the curved profile, which gave it the nickname, 'the banana' and sliding mouth piece gave the Nokia 8110 its unique appeal. The design reflected the way people used a phone. Like other Scandinavian design it was in harmony with the user.
Answering a call was easy with the Nokia 8110, you just opened the slider to accept the call and closed it to end the call. You could adjust the slider to so that the mouth piece was in exactly the right position for your mouth.
The organic shape caused some controversy in Finland. The two leading Finnish mobile phone retailers, Tele Assa and Tele Porssi, combined to fund an advertising campaign featuring two naked men each holding a Nokia 8110; one held the phone close to his genitals. The tag line translated as 'spot the male manhood'. Nokia distanced itself from these ads and asked the retailer to withdraw them.
Today the 8110's main claim to fame is its role in the Sci-Fi film, The Matrix. The ones used on The Matrix were modified to make using them more slick and futuristic. They had a spring loaded, push button operated slider. This inspired Nokia to add a spring loaded slider to the later 7110 model. The 7110 is often incorrectly called the 'Matrix' phone.
The Nokia 8110 became one of the most desirable handsets available and it replaced the already excellent Nokia 2110 as Nokia's flagship model. 'What Cellphone' gave it the 'Best GSM Phone' award for 1996/7. Although it did not quite beat the Motorola StarTAC for out and out kudos, it was a close run thing, and the Nokia was significantly cheaper.
Nokia 8110i
A new version came along in 1997 called the 8110i. It looked pretty much identical to the 8110, but supported Nokia's new Smart Messaging technology.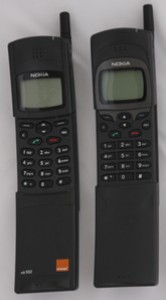 Orange and One2One.
The Nokia 8110 was initially only available on the Cellnet and Vodaphone GSM networks. Orange and One2One customers had to wait a year before they could get their hands on one. Versions for One2One, the 8146, and for Orange, the nk502, appeared in 1997.
The nk502, like most phones Nokia made specially for Orange, was distinguished with a few styling tweaks. The nk502 had a black screen surround instead of a grey one, a different pattern of dots for the earpiece and the style of the buttons was different. The One2One phones, 8146 and 8146 look similar to the nk502/nk503.
The main variants of the design were:
Nokia 8110 - original version, 1996
Nokia 8110i - improved version, 1997
Nokia nk502 - Orange version
Nokia nk503 - Orange version (improved)
Nokia 8146 - One2One version
Nokia 8146 - One2One version (improved)
Resources
Add your comments