Nokia Cityman 1320

Date launched: 1987
Network: TACS
Form: Brick
Size: 40(w)x185(h)x80(d) mm
Weight: 1580g (?)
Cost new: £1950( 1)
Can you use it today: No
Surprisingly Nokia was a little slow to anticipate that hand portables, phones you could carry in one hand, would be the future of mobile phones. The Nokia Cityman 1320 of 1987 was Nokia's first hand portable phone.
Nokia had been in the car phone business since the 70s and introduced a transportable, essentially a phone handset attached to car battery, in 1984 - the Mobira Talkman. However, by 1987, when they launched the Cityman 1320, Motorola had been marketing the DynaTAC 8000X for four years.
The Cityman 1320 was a high end phone combining the best Finnish design with Nokia's technical savvy. Nokia gained a massive publicity coup when Soviet leader Mikhail Gorbachev used a Cityman to make a call from Helsinki to his communications minister. Perhaps the first celebrity endorsement of a mobile phone.
Nokia was taking around 10% of the UK cell phone market in 1988. However, their products included car phones and transportable phones as well as the sleek Cityman. Like most phones in the 80s, after a year or so the Cityman started to lose its appeal. By 1989 dealers were discounting the Cityman 1320 to £600, instead of the current retail price of £1679.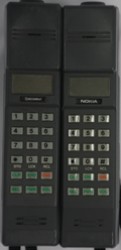 The Nokia Cityman was also branded and marketed as the Mobira Cityman. Both phones are identical except the badge (see left).
New look for the 90s
Nokia continued the Cityman line into the 1990s, but the phones are significantly different in design. The Cityman 100 and Cityman 190 of 1990 are more of an extra large candy bar, than a brick.
Alternatives
There were two other versions of the Nokia Cityman: the Cityman 450 and the Cityman 900, both were designed for the Nordic network, NMT.
Resources
See my original article on the Nokia Cityman 1320 on Retrowow.
Nokia's company history has a short piece on Mobira Cityman
References
(1) Advert from Air Link Communications in the Guardian, April 1988
Add your comments
Comments (8)
Anyone know if this is Nokia City Man 100? https://imgur.com/a/SKD2I Pretty sure it same as this one in pic. https://imgur.com/a/dAFm0 From http://nokiamuseum.info/nokia-cityman-100-nmt But there's 2 pic in museum site (one with 'Nokia' and one with 'Nokia Cityman 100') so I'm confused is it same model?
I have 2 x brick mobile phone. The make is Mobira. The labels on the bottom one has the following makings S/2693/4/G500373 also written CE60TA 11/00/00/05597 The other has the following makings S/2693/4/H/500837 and Nokia-Mobira OY CE63T 11/02/00/26082 this phone also has a strap attached. Can you let me know if they have any value. The ariels are slightly damaged otherwise to that in good condition.