Oribitel 902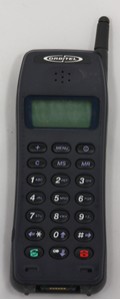 Vodafone's first consumer GSM phone
Date launched: 1993
Network: GSM 900Mhz/1800Mhz
Form: Candy bar with internal aerial
Size: 62(w)x140(h)x27(d) mm
Weight: 298g
Standby time: 10.5hrs
Cost new: £399 retail or £240 with Vodafone MetroDigital
Can you use it today: Yes
Vodafone was the UK's first digital network provider. However, their original digital service, EuroDigital was expensive and was targeted at businessmen and women who regularly travelled to Europe. This changed in the Autumn of 1993 when Vodafone announced MetroDigital: a digital service for consumers.
With MetroDigital you had to nominate a home cell. Calls made from that cell would be cheapest. It was meant to be a home phone replacement. In practice this meant you could pay different charges in different rooms of your house. Outside of that cell calls cost double, essentially mobile calls from inside London. Going outside of the Capital pushed call charges to exorbitant levels.
Vodafone quickly abandoned the one cell approach, allowing the 'home cell' to be a cluster of adjacent cells.
The British-made Orbitel 902 told you which cell you were in. It displayed a STD area code and the name of the cell.
The phone was was ergonomically designed and performed well. However, it a feature which 'What Cellphone' called a 'lobe defroster'. On long calls the earpiece had a tendency to cook the user's ear! (1)
References
(1) Article by Bob Tomalski, 'The metro line' in What Cellphone, Spring 1994
Add your comments
"I have a working one of these. Great fun to power it up with a modern sim and impress my friends. Can't believe it's nearly 20 years old now!" Jimbob North Yorks 12/15/2012
"i want to buy this phone if anyone wants to sell plz contact immidietly 8788401671" shan 01/30/2018
"I know it is six months since `Shan` wrote above but I have an Orbitel ( purchased new in Kent UK 11.08.1994 ) for sale complete with Instruction Book, Mains and Car Charger/s. I live in France but am travelling to the south-east of England in a couple of weeks time. Contact:- philip.beauchamp@orange.fr if interested." Philip M Beauchamp 07/08/2018