Bt Cellnet phones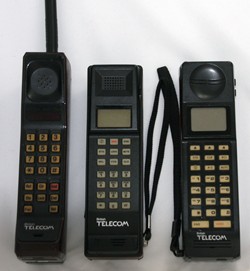 BT Cellnet was British Telecom's mobile phone network brand name until 2002 when the company was sold by BT. The brand is now O2 and the company is owned by Spanish telecoms giant, Telefónica.
From the beginning, phones were branded as 'British Telecom' and later Cellnet. However, phones branded Motorola, Nokia and many other companies were sold with Cellnet contracts.
The following is a list of BT or Cellnet or BT branded phones.
Cellnet phones from the 1980s
BT Opal - Motorola DynaTAC 8000S (ETACS) - 1985
BT Pearl - Mitsubishi Roamer (also known as BT Roamer) (ETACS)
BT Coral - a rebranded Kokusai phone (ETACS) - 1988
BT Ivory - a rebranded Hitachi 5IV1A04 phone (ETACS) - 1989
BT Diamond - a rebranded Motorola 9800X (ETACS) - c1989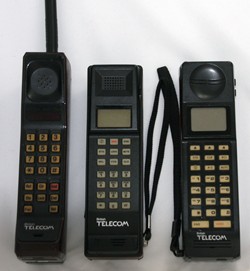 BT phones from the 1990s
BT Emerald - Motorola 6800X transportable (ETACS) - c1991
BT Diamond II - a rebranded Motorola flip phone (ETACS) - 1994
BT Diamond IV - launched 1996 (ETACS)
BT Jet - a rebranded NEC P100 (ETACS) - 1995
BT Jade - a rebranded NEC P100 (ETACS) - 1993
BT Amber - a Maxon (ETACS) - 1994
BT Marble - a NEC P3 (ETACS) -1994
BT Quartz (ETACs)
BT Ebony (ETACs) - 1994
BT Jade II - a rebranded NEC P800 (ETACS) - 1996
BT Esprit - 1995
BT Roamer 100 - a rebranded Alcatel (GSM) - 1995
BT Roamer 300 (GSM)
BT Roamer 500/550 - a rebranded Alcatel (GSM)
BT Roamer 600 - a rebranded Ericsson (GSM) - 1995
BT Roamer 700 - launched 1996 (GSM)
BT CMH 200 a rebranded Nokia 100, also known as BT Nokia 100 (ETACS) - 1994
BT CMH 300 a rebranded Motorola, also known as BT Pearl (ETACS) - 1994/5
BT CMH 400 a rebranded Maxon phone - 1995
BT Euro '96 a rebranded Motorola - to celebrate football's Euro '96 (GSM) - 1996
Philips Savvy BT Cellnet (GSM) - 1999
Add your comments