Hagenuk GlobalHandy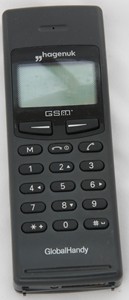 The first phone without an external aerial
Date launched: 1997
Network: GSM
Form: Candy bar
Size: 52(w)x150(h)x17(d) mm
Weight: 170g
Cost new: £20
Can you use it today: Yes
Value today: £10 to £25
The Hagenuk GlobalHandy is one of the forgotten heroes of the mobile phone world. It was a neat, ergonomically styled, German-made phone, which had the distinction of being the first phone without an external aerial.
The GlobalHandy is certainly a nice phone to hold in your hand and its functional style is typical of other German products. However, the simplicity of the keyboard had one obvious fault. There are no letters, only numbers. This meant texting through a bizarre menu system, which was a pain to use.
This is surprising as the rest of the phone's menus were well laid out and extensive in terms of features, which included the ability to monitor battery health.
At the time, there were concerns over mobile phone safety. The Hagenuk had one of the lowest levels of emissions of all phones on the market.
The Hagenuk GlobalHandy made little impression on the UK market and they are quite rare today, but as a milestone phone it is a must for any collector.
Add your comments
Comments
No comments yet. Be the first!