One2One m200 (Siemens)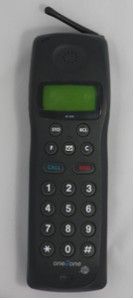 Mercury One2One's first phone
Date launched: 1993
Network: PCN 1800Mhz
Form: Clam shell
Size: 55(w)x185(h)x32(d) mm
Weight: 368g
Cost new: £250
Can you use it today: Yes
Mercury One2One was Britain's first digital cell phone network for the masses. Never mind that it only operated within the M25, One2One's 'Residential' package offered free evening and weekend calls. If you lived in London and wanted to join the mobile revolution, at £200 the One2One m200 seemed the best way to do it.
Unfortunately the m200, made by Siemens, was hardly state of the art. It was big and heavy, but at least it was easy to use. The keys were large and friendly, and glowed green for six seconds when you first switched the phone on.
Features were severely limited. There was a voice mail service, but you could store only ten messages for up to three days. There was a ninety-nine number phone memory, but with no alphanumeric keys, you had to access the letters via a menu; hardly user friendly.
However, the m200's worst problem was its quality. In spite of its hefty size, the m200 was no tough guy. The plastic was brittle, particularly around the one/off switch and the battery clip. Mercury had to replace many customers' handsets almost straight away. Many m200 owners may have regretted not stumping up the extra £50 to get the m300
Resources
Mercury advert from 1992
Add your comments
"You say that you can use this phone today... I believe you can't. I had one of these (and still do) from 1993. In 1999 one2one contacted me with a complusary replacement new Siemens model because they were going to be introducing newer technology to their network that this phone couldn't handle.

Putting in a 2G Virgin / T-Mobile sim and the phone lists the network (one2one) - but can't place or receive any calls.

Modern, recently issued SIMs designed for 3G phones also won't work at all - you get an error message." Hywel Williams 12/07/2012
"Hi Hywel,

These phones will certainly not work with 3G SIMs. They should work with any SIM card designed for the PCN Network 1800Mhz. In theory that is Orange or T-Mobile. However, there are sometimes other barriers to getting older phones to work today.

If you say they won't work with T-Mobile, I'm sure you are right.

I haven't tried it myself, but it might work with Orange. It has to be an old style SIM though. I believe some of the later ones are smaller in size. Of course the phone may be locked to One2One. Unlocking it might be another issue.

best regards" Steven 12/07/2012
"I have this phone in mint condition but the sim is locked would anyone know how to unlock it" Paul 01/28/2013
"Hi Paul, The phone might work with Orange SIMs. I'm not sure. It seems they don't work with T-Mobile. Best regards" Steven 01/28/2013
"Hi
Can you help I have a one2one M200 mobile phone no charger, where should I sell it to get best value.
Kind regards" Vanessa 01/28/2014
"Hi Vanessa,

eBay is the best place to sell to get the best value. These are quite rare so it's hard to advise on price. You should get at least £20, possibly a lot more.
best regards" Steven 02/02/2014
"I know this is in response to something I said over two years ago but I can confirm that all the m200 phones were locked to one2one/T-Mobile and didn't work with an Orange SIM (I personally tried). At the time I looked into how to unlock it but nobody could do it - I suspect the technology is too old to realistically expect anyone to be able to do it today.

They also came out before text messaging was introduced - it was capable of displaying text messages sent to it from another phone but there was no mechanism on the phone to compose your own.

Apparently they did have a secret engineering mode that could be activated, because this was the model used by one2one the year before they launched to test the network - but I also gather this could only be done by connecting it to a special device - there wasn't a hidden menu to activate it (like in a number of Nokia phones released a few years later)." Hywel Williams 09/11/2014
"You claim these phones weren't sturdy?

I had one in an inside jacket pocket and tripped, falling onto the phone. I fractured a rib, the phone suffered nothing worse than a cracked battery case.

It continued to work fine though." Ray Daley 05/16/2017
"You cannot use it today. It was withdrawn by by T-Mobile in 1995." Mr P.B. Sharpe 01/12/2020
"Hi does anyone know what the unlocking code is for a mercury 121 m200 mobile" Andy r 06/18/2020