Siemens S10
The first phone with a colour display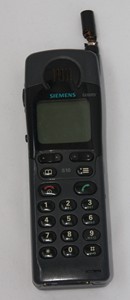 Date launched: 1997
Network: GSM
Form: Candy bar
Size: 46(w)x147(h)x25(d) mm
Weight: 185g
Battery Life: 100hrs standby/10hrs talk-time
Cost new: £80 to 100 with contract
Can you use it today: Yes
Value today:
The Siemens S10 was the world's first phone with a colour screen. It was a high end business phone with a number of a advanced features. However, the phone was not up to rival products from Nokia and Ericsson and the colour screen did not make it any more usable.
The S10 was one of those products that achieved a break through that would a few years later be an industry standard, but at the time it failed to make an impression. The reason being, the colour screen was no more than a gimmick. It displayed text in four different colours, but it had a text only display with a few symbols. None of the graphics we see today on most mobile and smart phones. Reviewers at What Cellphone were unimpressed. They thought the colour screen actually made the phone difficult to use.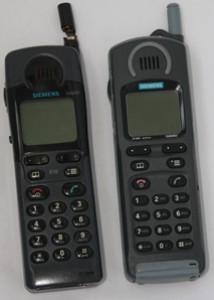 The Siemens S10 did boast a memo which could store 20 seconds of speech, unusual at the time and two phone books. You could set up call screening for numbers in, or not in either of the phone books, or sound a different ringtone, if you could work out the complicated menu system.
However, for a top end business phone, the Siemens S10 compared badly with competitors which were smaller, lighter and easier to use. In the event sales of the S10 were disappointing and this phone is very rare today.
Collectors' information
These phones are exceptionally rare. They almost never come up for sale on eBay. There are at least two versions: the original S10 (far left) and a later restyled version, the S10D (left).
By Steven Braggs, May 2013
Add your comments
Comments
No comments yet. Be the first!