Swatch Cell Phone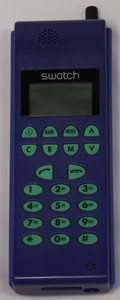 The first 'designer' phone
Date launched: 1993
Network: TACS
Form: Brick
Can you use it today: No
The Swatch Cell Phone was meant to take mobile phones in another direction. In 1993, although Nokia had already shown the way in understated ergonomic design, there were no 'designer' phones in the way people thought of 'designer' products in the late 80s and early 90s.
Fabrizio Galli won the NTZIAN Prize 1993 for the Swatch phone. It was available in a series of bright colours including blue, green and transparent; although the phones never had the variety of colour and designs as the Swatch watches.
The Swatch Cell Phone was meant to be a consumer phone, with a realistic tariff in a smart modern skin.  The phone itself was a rebranded Nokia and only worked on the analogue TACS network.
Although a test market in Italy looked promising, it was not a great success in the UK. The Swatch concept of owning a number of watches for different occasions was not going to work with mobile phones. You could really only have one. If you had a red transparent phone, you would have to take it with you everywhere, to the office, as well as to the night club, and they were a little too big to hide away. So customers may have preferred something more serious looking.
A few years later, interchangeable fascias solved this problem. The Swatch Cellphone was a little ahead of its time and it remains something of a curiosity today.
Add your comments