Ericsson EH97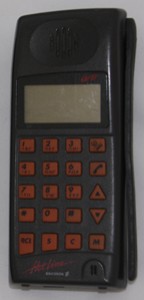 The last Ericsson 'Hotline' phone
Date launched: 1992
Network: ETACS
Form: Candy bar
Size: 62(w)x147(h)x30(d) mm
Weight: 335g
Can you use it today: No
eBay value £40+
The EH97 was the last Ericsson phone to have the 'Hotline' name and also the last to have the brown and orange colour scheme, which by 1992 was looking dated. 'What Cellphone' compared this phone to a 70s' pocket calculator.
However, the magazine also acknowledged the EH97's virtues. Like other Ericsson phones, it was the product of a collaboration with Bang and Olufsen. As you might expect, the sound quality was perfect.
The look of the EH97 was the work of designer Richard Lindahl, whose first phone for Ericsson, the NH72, formed the basis of Ericsson's first GSM phone, the GH172. The new design, following Ericsson's convention of using girls' names, was Sandra. The EH97 was an asymmetrical design, possibly a nod to mid to late 80s' fashion. It also fitted neatly into the hand and although still quite large, it was reasonably convenient to use.
At the time handset technology was improving at a pace and each new handset was smaller than its predecessor. Although the EH97 was smaller and lighter than the GH172/EH72/NH72, it retained Ericsson's quality feel and electronics.
The colour scheme might have been straight out of the late 70s, but the packaging was distinctly 80s. The red script writing against a black background on the reverse of the box was typical of the graphics of the era. Red and black were distinctly 80s' colours.
The branding message continued the well established Harry Hotline theme. The tagline, 'A special brand of freedom', was Ericsson's brand message which began way back with the Hotline Combi in 1986. Freedom was being able to go to exotic places and stay in touch; though some might think freedom was being able to go to exotic places and not be in touch. Nevertheless, the message worked and Harry and his distinctive trilby were popular throughout the globe, as were Ericsson phones.
Derivatives
The NH97 was the first version of the Sandra phone. Ericsson introduced it in 1991 for the NMT network. The GH197 was the GSM version of this phone which came along in 1993. However, by then a dispute with Hotline Electronics over the Hotline name meant it was branded solely as an Ericsson and swapped the brown and orange colour scheme for white and grey.
Collectors' tips
It is hard to find these phones with working batteries. However, the batteries for the GH172/EH72 will also work with this phone.
Resources
Add your comments