Nokia 3210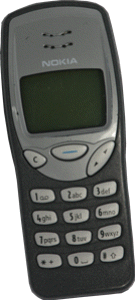 The phone that started it all...
Date launched: 1999
Network: GSM 900Mhz/1800Mhz
Form: Candy bar with internal aerial
Size: 51(w)x124(h)x23(d) mm
Weight: 151g
Cost new: £149.99 (1)
Can you use it today: Yes
Teenage mobile culture began with the Nokia 3210. It was small enough for the average pocket and you could send text messages to your friends without drawing attention. Texting was fast on the Nokia 3210 for those who mastered predictive text, a skill that came easiest to children rather than adults. At the same time cheaper PAYG deals made mobile ownership for teenagers a reality.
In 1999, the year Nokia introduced the 3210, 35% of under 18s had a mobile phone. Some were spending fortunes on them. A 15 year old girl called Shaniqua, from a North London comprehensive, claimed she spent £100 a month on her mobile phone. Every break time Shaniqua's school friends gathered together to check their messages. They ran the risk of having their mobiles confiscated if they rang during lessons.
The Nokia 3210 came to the market at the exactly the right time. It was small, although not that light and it was easily customisable. Although the Nokia 5110 had introduced the idea of customisable fascias, with the 3210 you could change both the front and back of the phone.
Initially the Nokia 3210 was far from cheap on PAYG. However, prices soon came down. By the end of 2000 you could get one for less than £70. By then the smaller Nokia 3310 was the latest thing.
Resources
References
(1) From the Link (on One2One Pay and Go February 2000)
Add your comments
"I Want A Refubished Nokia For THe Customisable Shell But Dont Know Whether To Go For The 3210 Or The 3310?

PLease Help Me!" Zanda Bayfield 09/19/2012
"Hi Zanda,

The 3210 is quite a bit bigger then the 3310. Both have customisable fascias and both are readily available on eBay and from other sellers. I guess it's up to you which style you prefer.

best regards" SteveB 09/21/2012
"hiya, im doing a homework asignment and need to know what the nokia 3210 is made of? please answer asap!
thanks
katie" katie 11/19/2014
"I have a mint condition 3210. I hear they are worth quite a bit. I'll let you lovely people make offers lol....." Diana 11/20/2014
"Hi Katie, the phone is mafde of p!lastic/pvc,lead,cadmium,nickel,and possibly some mercury, glass just to name a few.Hope this helps." Diana 12/13/2014
"I have a collection of old Nokias - including a 3210, a 9300, an E90, a mint 9110 and an even better 9000i
Are they worth anything yet ?" Steve 04/16/2015
"How can I get a 3210 cell phone" Ts.Raju 05/15/2016
"Try eBay. You can follow one of the links on this page." Steven 05/17/2016
"I love it because it has games and more!" Miguel Dela Merced 09/21/2019