Nokia 101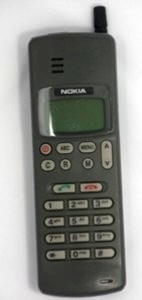 Best selling phone of the early 1990s
Date launched: 1992
Network: Various analogue
Form: Candy bar
Cost new: £199 (1)
Can you use it today: No
The Nokia 101 was the first phone which showed Nokia's distinctive approach to mobile phone design and the reason for the company's long term success. Other firms competed for the crown of the smallest or lightest phone, Nokia wanted to make their phones the easiest to use.
Paul Chellgren, President of Nokia Mobile Phones Inc, explained that Nokia's research showed that whilst people wanted a small phone, they also wanted one that was as easy to use as a big phone. These days of course, we are much more used to using small phones, but in 1992 things were different. Peoples' experience of mobile phones was either non-existent or of using something the size of a house brick with a large keypad.
Nokia employed Frank Nuovo from the design consultancy, Designworks, to design the 101.  It was the continuation of a relationship that started in 1989 and would see Nuovo, an Italian American, become Nokia's Chief designer in 1995.
For Nuovo the layout of the keys was critical; they needed to be well spaced and placed for easy and natural use. Other manufacturers tried to crowd the keypad with every conceivable function.  Nuovo put keys often used at the same time close together and used colour to distinguish function.  The green and red keys for answer and reject became an industry standard.  Keys were also well sized and responsive. The final touch was a backlit keyboard for easy use in the dark.
The Nokia 101 was designed to put the mouth and earpieces at a comfortable distance; a consideration which later inspired the look of the famous Matrix phone, the Nokia 8110. The Nokia 101 also had a large screen. Nokia built upon this feature in the 90s as mobiles increased in their sophistication and there was more information to display.
In every aspect of the design Nokia engineers considered how customers would use the phone. The menu system in the 101 was designed to be intuitive and easy to learn. It is my no means perfect and you cannot figure it out without a brief look at the instructions, but nevertheless it shows the way Nokia engineers were thinking at an early stage. Nokia menu systems quickly became the best in the industry.
Battery life and ease of charging was also very important. Nokia provided a choice of three batteries, a slim-line standard battery and two high capacity options. There was also a range of chargers, including a travel charger that could restore the phone to full power in 30 minutes.
There was also a Nokia 101 for all the major world wide (analogue) networks at the time. The Nokia 101 was a global phone for a global market. Unlike other high profile launches though, the Nokia 101 was not to make a splash with a huge price tag. With dealer discounts you could get one in the UK for less than £200.
The Nokia 101 had staying power. Its ergonomic design and easy to use menus made it an ideal first mobile and prices came down as newer models arrived. It was Britain's best selling mobile phone in 1994. Nokia helped boost the appeal by offering a range of colours: moss green, steel blue, scarlet, snow white or pale plum. Discounts from service providers drove the cost well below its original £449 recommended retail price. Talkland offered this phone for £149 in 1993 and threw in two months' line rental as well. They marketed it as Britain's best selling hand portable.
Newer models, particularly the Nokia 2110, quickly replaced the 101 as a business phone as GSM became the network of choice.  However, Nokia was still selling the 101 to people wanting a basic, easy to use and cheap phone in 1997.
The Nokia 101 also had a reputation for robustness and a strong following in the early 90s. For a time it was the definitive UK mobile, however, its size and weight counted against it, as well as the analogue network, which was increasingly seen as second best.

Alternatives
Nokia 121
Later in 1992 Nokia announced a revision of the 101, the 121, with more features aimed specifically at business users.
Nokia 100
In 1993 Nokia introduced the 100, a simplified version of the 101 intended for consumer markets. Nokia research showed that first time users wanted phones as easy as possible to use and similar to landline telephones. Nokia designers were not the only ones thinking this way. The Motorola Personal was also styled to be similar to a landline phone handset.
The Nokia 100 also formed the basis of the Swatch Cell phone.
Nokia now had three phones targeted at different segments: the 100 was for consumers, the 101 a mid range personal or business phone and the 121 for high end business users.
Nokia used the 101 for the basis of their first digital phone the Nokia 1011.
Collectors information
Whilst these phone are analogue, so you cannot use them today, they were a significant step in Nokia's history and in the development of personal mobile phones. This makes the 101 a must for any mobile phone collector.
The standard grey version is quite common. You should be able to get one for less than £20. Coloured ones are extremely rare and will be worth much more.
The 100 and 121 variants are much less common than the 101.
Resources
References
(1) Advert for Securicor Cellular Services, The Guardian, December 1992
Add your comments
Comments (9)
I have a Nokia 101 I bought from a Radio Shack in 1992. It came with two batteries, one a NiMh and the other, a NiCd. It came with a charging base, with slot for a battery and another slot for the phone with battery attached. I bought a leatherette pouch, that was carried on a belt. I also bought a car cigarette lighter plug-in adapter. It was my first phone and still is in pristine condition.
I am looking for the first Nokia cell phone that offeed a keypad lock/unlock feature where several keys were needed to lock the keypad and the same or different set of keys to unlock the phone. If I can find a model number of such a phone, I would like to get a dated PDF of the user's manual if possible.