How much did mobile phones cost in the 80s and 90s?
New technology is always expensive; manufacturers need to recoup years' worth of research costs. Back in the 80s, you would have to shell out £3000 to get your hands on the world's first hand portable phone, the Motorola 8000X.

As the technology moved on, prices came down. Dealers cut prices aggressively to sign customers up to lucrative contracts and earn huge bonuses from the only two networks: Cellnet and Vodafone.
Motorola's 9800X in 1989 reversed this trend for a few months, when it redefined the mobile phone from a brick to something like a folding notepad. However, the initial launch price of £1765 did not last for long as competitors soon caught up.
The launch of GSM in the early 90s brought a new spate of high priced handsets, but discounting quickly caused prices to drop.
When Apple launched the iPhone in 2007 you needed only £269 to get the world's most desirable phone. However, purchase price was never the whole story with mobile phones and you had to sign up to an expensive contract with the exclusive network partner, O2.
These are some of the eye watering UK launch prices or recommended retail prices (RRP) for a selection of popular handsets from the early days. In reality, by waiting a few months people could get these phones for significantly less.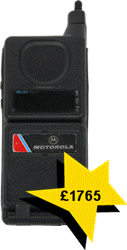 £3000 - Motorola 8000X - 1985
£2200 - Mitsubishi Roamer - 1986
£1990 - Excell M1/M2 - 1985
£1795 - NEC 9A - 1987
£1765 - Motorola 9800X - 1989
£1595 - NEC P4 - 1992
£1499 - NEC P3 - 1990
£1495 - Motorola 8800X - 1992
£1400 - Motorola StarTAC 85 - 1996
£999 - Nokia Cityman 100 - 1992
£950 - Nokia 9000 Communicator - 1996
£869 - Ericsson GH197 - 1993
£821 - Nokia 1011 1993 (Carphone Warehouse price August 1993)
£800 - Panasonic F1 - 1992
£762 - Motorola 3200 - 1993 (Carphone Warehouse price August 1993)
£712 - Motorola 7200 - 1993 (November 1993)
£700 - Nokia 2110 - 1994
£599 - Technophone TP4 - 1992
£449 - Nokia 101 - 1992
£269 - iPhone - 2007 (UK launch price)
Add your comments